Extreme getting dressed – Friday fun is 1 day late this week.
It's got to be a viral for something, but it's not blatantly obvious, so we'll post it. via Haha.nu.
One more after the Jump…

The risky dangerous parody – Guy backflips into Glove: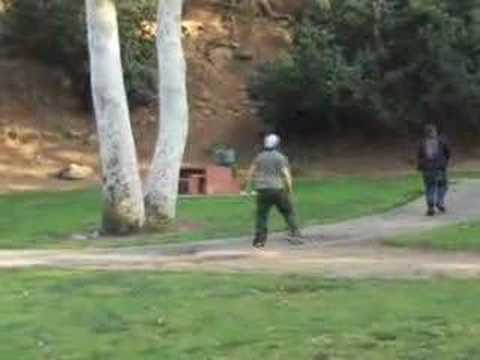 3 Responses to "Guys backflip into jeans"
matt Says:
June 10th, 2008 at 12:22 am

thank you for this video. You should feature this one now:
http://www.youtube.com/watch?v=5LxgYgKLdGg
Stefan 'the king' Sing. not sure where it came from but I'd get it while ye can, it could be removed like other youtube vids of him. I know yall at ministry are fans so check it out.

Drew Says:
June 11th, 2008 at 9:47 am

Matt, thanks for telling us about it.
The video has been removed almost certainly at the request of Stefan himself.
He doesn't like random videos of himself posted online, and usually requests that they are removed from youtube – which is understandable, and a right that any performer has.
We respect his wishes, and check videos with Stefan in before posting a link promoting them. Theres been a few that we haven't posted that have rapidly disappeared.
Theres an interesting post by Sylvain on Jongle.net discussing it, (in french):
http://www.jongle.net/modules.php?name=Forums&file=viewtopic&t=19452
Cheers
Drew
Which reminds me, I have to fix "suggest a link"

matt Says:
June 11th, 2008 at 12:45 pm

Cool, yeah, it was removed the day after I posted that. I managed to grab it. If jugglers like them don't like their stuff posted online it's obviously got to be taken down but it's always going to be frustrating when you live in the middle of nowhere (juggling-wise) and don't have the ability to watch these amazing jugglers. The nearest place he has performed to me is at the Irish convention, which would have cost hundreds for me to get to and attend, epsecially considering my negative income. If Stefan released one little 3 ball/whatever improvisation video every two/three years I would be more than happy, he obviously doesn't have any real reason or responsibility to do that though. The svendborg 3 ball improv with the villalobos tune in the background remains the greatest bit of juggling I have ever seen. Anyway, thanks for the link, if I was french I'm sure it would be a good read. m
Leave a Comment
You must be logged in to post a comment.