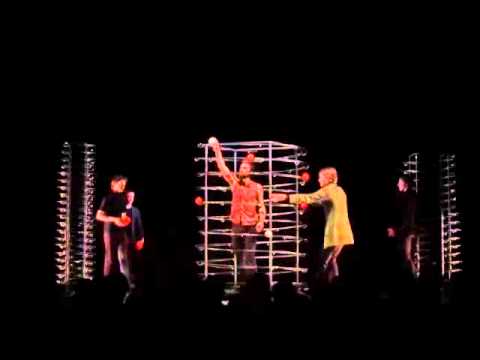 Liaison Carbone, is a new spectacle by the French company "Les Objets Volants", showing next month in Reims, 22, 24 and 25 January 2013.
"Carbon Bond" (Is our translation of the title, but we're not so hot at translating French, so please forgive us if it is incorrect.)
"After 4 years of teaching experience as a professor at the Academy Fratellini referent, Denis Paumier adventure continues with its alumni. This project brings together five young jugglers around the tradition of juggling and juggling new avenues of language.
Over the tables, performers explore the properties of objects of various shapes: balls, clubs, rings and other like so many atoms that assemble into molecules, to become animate matter."
Wow. Art and skill! Those big shiney metal spirals look like fun to play with.
One Response to "Liaison Carbone – Les Objets Volants"
maisondesjonglages Says:
January 9th, 2013 at 4:44 pm

Just for information, you can also see this show at the Maison des Jonglages in La Courneuve near Paris on the February 12th (8:30 pm) and on the February 13th (2:30 pm).
For more information, visit our website : http://www.eng.maisondesjonglages.fr
Leave a Comment
You must be logged in to post a comment.