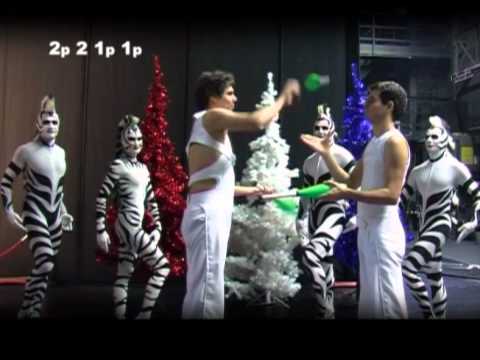 OMG so many weird patterns! You can buy the DVD at Media Circus for 25% off until December 31st. That's like £14.99, or $25, or €17.50, or ¥5200! Also look at all those great jugglers down there!
Trailer for Social Siteswaps, a 3 hour educational/inspirational film about passing patterns in all shapes and sizes.

Jugglers: Malte Steinmetz, Sylvain Garmavault, Pablo Medina Abellan, Annete Gliwa, Sylvain Garnavault, Frederike Gestner, Doreen Grossmann, Joelle Huguenin, Kim Huynh, Florian Marienfeld. Manuel and Christoph Mitash aka Jonglissimo, Daniel Sánchez, Daniel Sánchez, Daniel shultz, Inaki Fernandez Sastre, Lyse-Hélène Legrand, Frida Odden, Denis Paumier, Jochen Pfeiffer, Owen Reynolds, The Tesfamariam Brothers aka Bibi and Bichu, Jon Udry, Guy Waerenburgh, Luke Wilson
One Response to "Social Siteswaps- Juggling DVD"
Louis Says:
December 7th, 2010 at 12:34 am

Sweeet, ordered.
Leave a Comment
You must be logged in to post a comment.